Escoffier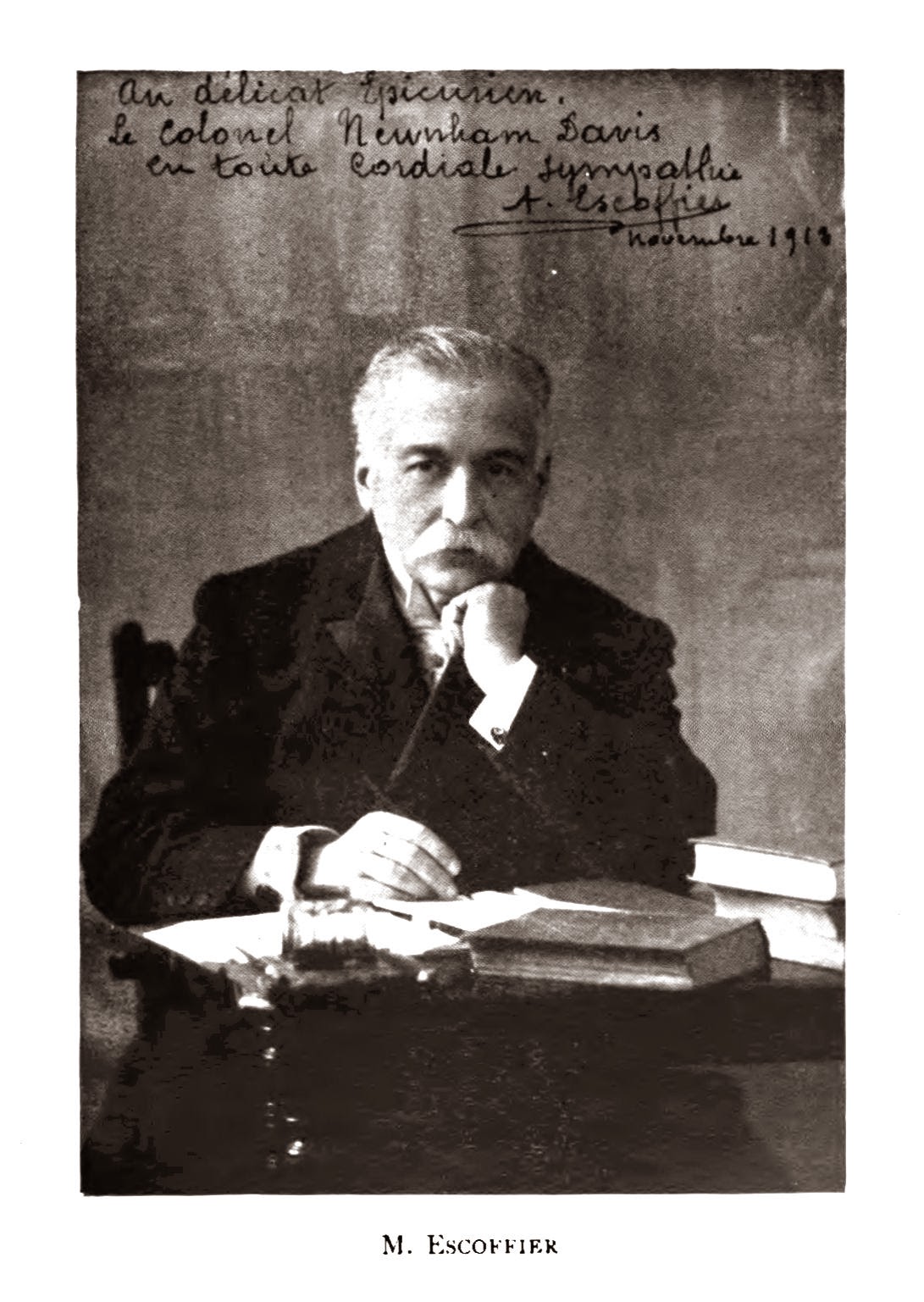 "I wouldn't consider a program to be serious if it didn't teach Escoffier, or classic French techniques" Julia Child 
(The following is a memory from 2016.)
Nicknamed "King of Chefs and Chef of Kings", Georges Auguste Escoffier's list of loyal followers included royals, writers, movie stars, and divas. In contrast, his portrait shows a grounded man of distinction. He appears deep in thought, knuckles perched under his dimpled chin, a grey mustache frowns just above his lips. His other well-manicured hand often rests on papers, while his fingers hold a fountain pen, he exudes stoic confidence. His name is associated with some of Europe's most legendary hotels including: the Grand Hotel in Monte Carlo, the Carlton and Savoy in London, and the Ritz in Paris. And with two culinary schools in the United States, nearly 80 years after his death his presence and teachings continue to flourish. I wanted to know, why?
My curiosity brought me to his home, the Musée Escoffier de l'Art Culinaire. The afternoon I arrived in the sleepy picturesque village of Villeneuve-Loubet, I was cheerfully greeted by the assistant curator, Julie Durand – no stranger herself to the culinary world as her father is a retired chocolatier from Aix-en-Provence. Her admiration and enthusiasm for Escoffier was contagious. Listening to the animated Ms. Durand was the next best thing to traveling back in time. Walking through Escoffier's childhood home, she pointed out personal relics that included his hand written love letters to his wife, family photographs and countless notes of accolades from respected colleagues. Leather bound books were abundant in his study, which also happens to be the room where he was born. Here you will find first editions of his own work, Le Guide Culinaire and Ma Cuisine.
Upstairs the visitor is treated to two exceptional spaces. One room, located behind a velvet red drape, is devoted to L'Art Pâtissier. The scent of dozens of edible sculptures leave noses happy and mouths watering. This space also houses one of the oldest sugar sculptures in the world, a beautiful train that sparkles like fresh snow, dating from the 1920's. The second room is the Salle des Menus. If you appreciate art, poetry, and cuisine, you will find happiness here. Escoffier's brilliance stretched beyond his ingenuity in the kitchen. He saw the design of menus as an opportunity to enhance and prolong the dining experience. When creating a menu, he wanted it to flow like poetry. The words became intangible elements, foreplay to the meal, creating anticipation among the diners. The beautiful artwork, soothing pastels, and dainty poetic script are worthy of the gold gilded frames many call home. These well-preserved, parchment remnants of the past are quite telling of the time in which he worked, but their beauty took a backstage as I noticed another element of the Belle Époque waiting for my attention, Maxim's.
Maxim's in Paris, these three words alone conjure up images of opulence and excess: rich red walls, gold rimmed mirrors, chandeliers dripping with sparkling jewels, art deco glass floating overhead, fresh roses on table tops, and champagne flowing like Maxim's neighbor, the Seine. If you've wished for a tiny glimpse of life at the famous restaurant during the height of the Belle Époque, there is a table reserved at the museum. Granted, it's behind glass, but nonetheless, your eyes are rewarded with a true setting from this bygone era. As I admired the pretty table lamp topped with a pale pink fabric shade, my guide was quick to point out the significance. The color was chosen because of the pink glow it cast upon diners. Everyone at Maxim's wanted to sparkle and dazzle, the rose tinged light from the shades became an accessory that enhanced the beauty of anyone within its shadow.
While the books and museum were wonderful in enhancing my understanding of Escoffier, his essence didn't truly come to life until I tasted one of his most famous creations, the Peach Melba. Armed with a copy of his original recipe, I set out to replicate his creation. It is a basic dessert, consisting of vanilla ice cream topped with ripe poached peaches and a raspberry sugar glaze. The taste reminded me of the simplicity that accompanies youth. This dessert, not unlike Escoffier is memorable, not because of a complicated mixture of ingredients, but the opposite. They are true to their origins, not attempting to be anything less and not needing to be more; neither demanding nor screaming for your affection, but both bring you back longing for more.
Georges Auguste Escoffier is buried in Villeneuve-Loubet, but his memory and teachings (and Peach Melba) carry on…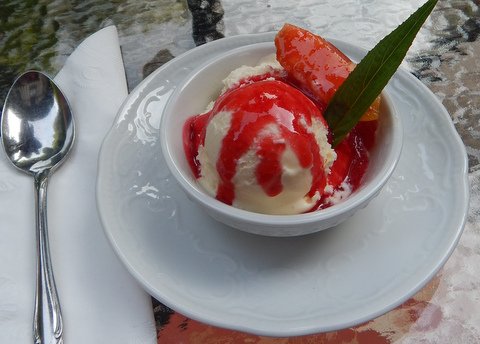 ---