Marmorkuchen – Marble Cake
It's been a year since I received, Classic German Baking by Luisa Weiss.  And I'm happy to share, I finally rolled up my sleeves, tied on my apron and stained my first page.  The recipe I wanted to tackle first is found at nearly every German coffee house, Marble Cake (Marmorkuchen). This cake marries well with a cold glass of milk or steaming cup of coffee. I like it in the morning, afternoon or evening. It's an "evergreen" dessert, available in pastry cases: spring, summer, fall and winter.
This cake was a hit, not a crumb was left on the plate! This buttery beauty will please the palate of anyone who appreciates the goodness that comes from simple wholesome ingredients. I'm not a fan of white chocolate, and must admit, I was skeptical when I saw it was a major player in this recipe, but I've since conceded and believe it's the magic ingredient that elevates Ms. Weiss' recipe above all others.  This is the best Marble Cake!
I hope you enjoy.
Ingredients
3 ½ ounces bittersweet chocolate, chopped
3 ½ ounces white chocolate, chopped
18 tablespoons unsalted high-fat, Euro-style butter, softened
1 ¼ cups sugar
¼ teaspoon salt
1 teaspoon vanilla extract
4 large eggs
2 cups all-purpose flour
1 tablespoon baking powder
2 tablespoons cocoa powder
3 tablespoons whole milk
confectioners' sugar for dusting
Preheat oven to 350F/180C.  Be sure to place your oven rack in the bottom third of the oven. Prepare your bundt pan by spreading butter in every nook and crevice and dusting with flour.
Put bittersweet and white chocolate in two separate stainless steel bowls and place on top of a saucepan filled with simmering water. Melt chocolates one bowl at a time (watch it w/ an eagle eye – once burned, there's no return!).  After melted, set aside and allow to cool.
Place softened butter in bowl of stand mixer fitted with a flat beater attachment. Begin to add sugar and salt, beating until light and fluffy.  Next add the vanilla extract, followed by the eggs (one at a time), scraping down the sides of the bowl after each addition until well combined.
In a separate bowl, whisk the flour and baking powder.  Begin to beat the flour mixture into the butter mixture.  Scrape out two-thirds of the batter into a medium bowl and mix in the melted white chocolate into the larger batch of batter until there are not more streaks.
Add the melted chocolate, cocoa powder, and milk to the remaining one-third of the batter and beat until combined and streak-free.
Pour half of the white batter into the budnt pan, then top with the bittersweet batter.  Then scrape the rest of the white batter on top.  To create a marble pattern, using a butter knife, swirl the blade through the batter.  Place pan in oven and bake for 60 minutes (good to start testing after 45 min).  It's done when the white area of the cake is golden and a tester comes out clean.
Place pan on a cooling rack and allow to sit for 10 minutes before unmolding and letting it cool upside down.  Once cake has cooled completely, you can dust with confectioners' sugar. If wrapped in plastic wrap, this cake will store for three days at room temperature…but don't expect it to last long enough!  And one more note, like Ms. Weiss mentions in her book, this cake is even better the day after it's baked 🙂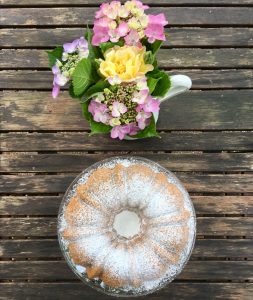 ---
---