A Sanctuary For Book Lovers: Buch-Café Nero39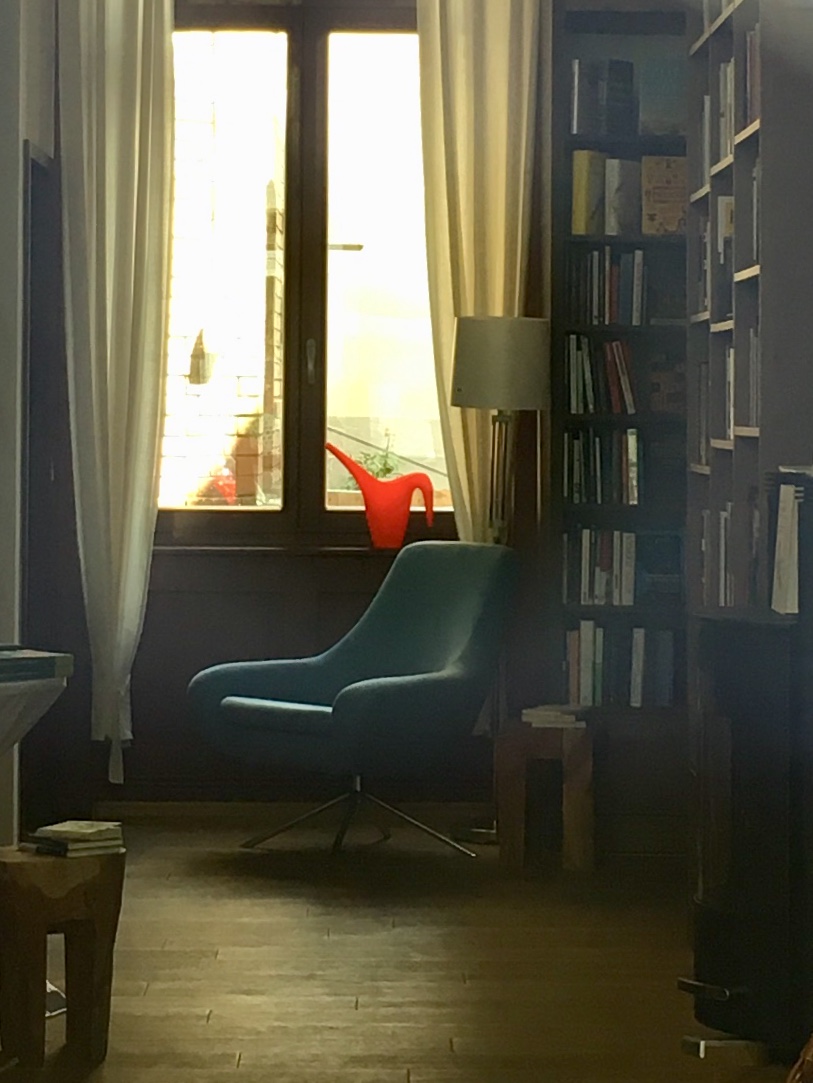 Christopher Deyer and his wife Antje Probst surround themselves with objects they love and value – books.  In 2014 the couple opened a shop where bookworms would feel at home, Buch-Café Nero39.  They chose a beautiful location off a quiet street.  The store's interior includes original 20th century columns from what was once a famous restaurant. Pops of color mingle alongside subdued hues inspired by nature: rust toned walls, wooden floors and end tables, seating in shades of peridot, azure and fuchsia overlook a cozy fireplace encouraging patrons to lounge and linger over a cup of Samova tea or organic coffee, which is served at the counter.  
This urban gem carries a handful of titles in English: fiction, non-fiction, philosophy, art, cookbooks, graphic novels and children's books.  While they do carry best sellers, it's worth mentioning the owners especially love supporting small independent publishers. Mr. Deyer in particular takes pride matchmaking people with books. He explained, "If a customer comes in searching for a style similar to one written by James Patterson, I can help them find something just as good, but by an author less known."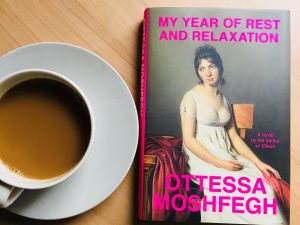 Before leaving, a book perched like a parrot on a wooden shelf caught my eye; a woman languidly sitting dressed in a Grecian white gown.  Her rose tinted cheeks and doe-eyes looked tired, and longing. Bright pink embossed letters spelled out the title and author, My Year of Rest and Relaxation, by Ottessa Moshfegh. Noticing my interest, Mr. Deyer offered a smile and commented he'd read it and provided a one sentence summary convincing me my nightstand needed this book.  A week later while on vacation, I smiled reading a review in the Financial Times of the book I'd purchased.  I new I'd found a compelling book, but just as wonderful, I'd found a delightful locally owned bookshop, too!  
And if you've ever wanted to host a book club, reading or small gathering, this quaint bookshop can be rented in the evening (after closing).  Be sure to check their website for information, including upcoming events!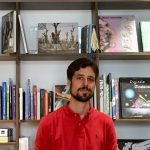 Nerostr. 39
65183 Wiesbaden
Tel. +49 (0) 611 181 79 363
info@nero39.de
---
---