Lee Krasner: Unencumbered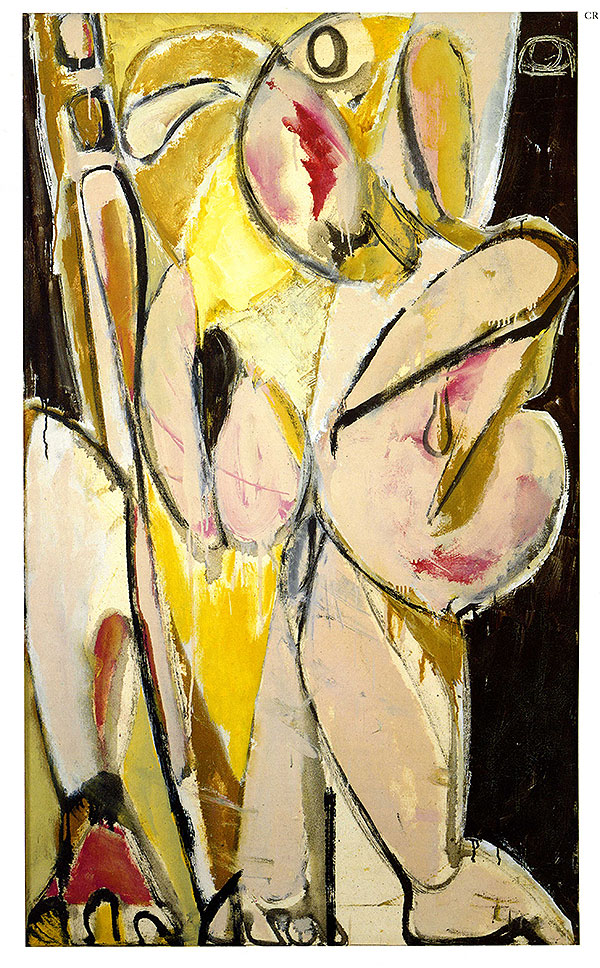 (Krasner, Lee. Prophecy, 1956. Oil on Cotton Duck. 58 1/8 x 34 in. Private Collection.)
Lee Krasner exhibit at the Schirn Kunsthalle in Frankfurt. Closes Jan. 2020.
American Abstract Expressionist, Lee Krasner was born in 1908 into a Ukrainian Jewish family in New York. Unlike many artists, she was able to witness her success, but not without drama. 
I'm not a fan of Abstract paintings, likely because I struggle to understand them.  After researching Ms. Krasner's painting Prophecy, I not only see it differently, but I understand it better. On first glance I felt darkness and depression.  Discombobulated flesh tones pop from a black background. A sense of gloom and anger dominate, or at least those were the emotions I felt.  And because of, I disliked it…until I got the backstory.  Then I understood.
In 1956 Krasner and her husband, Jackson Pollock were in a state of discord.  Alcohol abuse and Pollock's affair with another woman prompted Krasner to alter a trip to France the two had planned.  The artist needed space, so she went solo, leaving an unfinished painting on her easel. Nearing the end of her European excursion she received an unexpected call. Pollock had been in an automobile accident with his lover.  He didn't survive, but his lover did. Two weeks after his funeral Krasner moved into what had been Pollock's light filled studio, a converted barn on their property and finished Prophecy.   
When asked how she could paint in such grief, the artist responded, "Painting can not be separated from life, it's one, it's like asking, will I live? My answer is yes – and I paint." 
When I take a second look at Prophecy, the initial turbulent emotions felt turned out to be (surprisingly) relevant.  Krasner created this work during a time of mourning, a time of anger and a time of reflection. It also marked a beginning. Krasner's work had been limited due to the small room she used in their home. Relocating her work space into Pollock's converted studio was a turning point. For the first time, Krasner could work on a larger scale – and boy did she!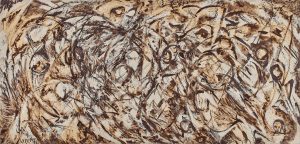 The two years following Pollock's death prompted another change within the work of Lee Krasner, she chose to work using mostly umber pigment, this was for pragmatic reasons…as the artist struggled with stress induced insomnia she couldn't stay true to color without natural day light streaming in from windows.  The brown pigment from umber was forgiving, allowing her to paint unencumbered. The Umber Paintings from 1959-1962 are both somber and filled with swirls of organized chaos.  Color would follow, as the artist moved out of the shadows and into her own light.
 Works Cited:
Figure 1. Krasner, Lee. Prophecy, 1956. Oil on Cotton Duck. 58 1/8 x 34 in. Private Collection. https://www.stonybrook.edu/commcms/pkhouse/our-story/krasner.php
"LEE KRASNER – DIGITORIAL ZUR AUSSTELLUNG." SCHIRN KUNSTHALLE FRANKFURT, https://schirn.de/leekrasner/digitorial/.
"Lee Krasner from the Depths of Despair to the Height of Her Career." YouTube, Sotheby's, 11 Apr. 2019, https://www.youtube.com/watch?v=iAY2tfks3mA.
---
---