Diana Krall: Under the Stars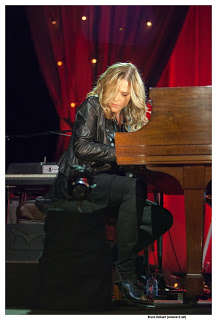 Sitting under the stars of Ghent was a woman far from home.  She spoke fondly of traveling with her two children and husband across the ocean.  Her black attire was both practical and highlighted her golden shoulder length hair.  Her flawless porcelain complexion didn't compete with color stained lips or overdone shades of eye shadow.  The understated diamond band adorning the one closest to her heart and sapphire locket around her neck, were the only hints of sparkle other than the night sky.  Within moments, this mother traveling abroad would illuminate the crowds that looked on.  Some people need accessories to enhance what they lack, in the case of Diana Krall, her voice and dancing fingers added sparkle far greater than anything found over a make-up counter or within a jewelry box.
My first introduction to Diana Krall was in New Orleans a decade ago.  She strutted out in denim jeans, high heels and a fitted black tuxedo jacket.  She immediately claimed her seat in front of a sleek black grand piano.  With a natural grace she crossed her legs, and in one seamless motion her fingers began to tickle the piano keys.  I was mesmerized.
Attending the Ghent Jazz Festival 12 years later to see the performer, I questioned whether she still had "it." Since the New Orleans concert she's added a husband and five year old twins to her schedule.  In addition she's, well – older.  I'm no rock star, but can appreciate the grueling schedule.  How would the mixture of age and a family affected what I witnessed in New Orleans?
As her lean, black clad figure made it on to the stage, she bee lined for the comforts of her companion, a wood grained piano.  Shuffling around the numerous sheets of music scattered over her piano, she joked about finding the perfect song to begin the night.  The choice, "Just Like A Butterfly Caught In The Rain."   Melodies fluttered and transcended over the crowd.  Her voice was sultry, fingers playful.  Like a chameleon, the music determined the artist's emotions.  Mrs. Krall flirted and teased with her slow calculated rendition of Tom Waits, "Temptation."  She nearly had me in a dream state singing Bob Dillon's, "Simple Twist of Fate."   The trailing word "Fate" seemed to reluctantly leave her lips, it was beautiful, heart breaking, and fading.  Amazing, with a flip of a switch, this artist would seduce the crowd with seductive lyrics, and then between breaths, summon the casual listener to melancholy.
Mrs. Krall has used what I questioned to be limitations and transformed them into another gift.  Marriage and kids, combined with the passage of time created an artist who knows who she is and where she belongs.  Her confidence becomes a tangible element within her performance.  While I may never possess the ability to carry a melody or play an instrument, Diana Krall and I do have a few things in common.  We've both added two heart beats to our families since New Orleans.  I too, anxiously take my seat at a keyboard.  Her keys turn out tunes, mine populate words.  Leaving the concert left me on a musical high.  More importantly, I learned future decades will bear gifts that don't come with a price tag.  It appears, if you surround yourself with love and a love for what you do, your natural glow doesn't have an expiration date.
---
---