Mithu Sen: (Not so) Pretty in Pink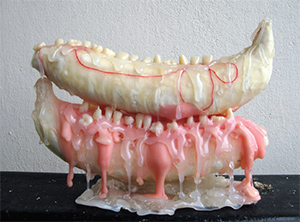 ( Sen, Mithu, Banana Couple, 2006. Dental polymer, artificial teeth, glue, and thread, 10 x 3 x 6 in.)
Artist Mithu Sen smiles recalling the story of when she was a little girl, dressed in a pretty pink frock she overheard a guest mention to another, she shouldn't wear pink it wasn't good for her dark complexion. This comment prompted the banning of the color pink from her wardrobe.  It was dismissed, at least until she became an adult and decided to reclaim it in 2003 with her art installation, "I Hate Pink." (NewsX, 2015). Sen's work challenges marginalization; like in "I Hate Pink", "It was an orchestrated protest against the prejudice surrounding the color pink. All pink objects drawn from the realm of domesticity play off on the inner violence of this color that is often associated with girlish femininity confronting in this process, its hidden connotations." (I Hate Pink, 2003).  Since reclaiming a pastel denied in youth, the artist has made it a feature color in much of her work, along with addressing being labeled and put into a box, which is why you won't see Sen working in only one medium or creating work based on a singular topic. (Thomas). Her genre stretches from writing poetry, painting and building sculptures that address topics ranging from sexuality to immigration. 
"Banana Couple, 2006" was inspired by her frustration of society not accepting two males capable of falling in love with one another.  She saw beauty in one particular couple's love and wanted to construct a sculpture symbolic of its beauty, and mess – literally and figuratively.  
Whether you enjoy Mithu Sen's art or not, one thing is certain.  If you give Sen a chance, she will prompt thought.  Her work will likely provoke an array of emotions: empathy, disgust, love, rage, beauty, sadness, harmony and confusion….and maybe even cause you to blush.
Artist Bio – "Born in 1971 in West Bengal, Mithu Sen obtained her Bachelor's and Master's degrees in painting from Kala Bhavan at Santiniketan, and later, completed a postgraduate program at the Glasgow School of Art in the United Kingdom on the prestigious Charles Wallace India Trust Award for 2000-2001. An enthusiastic traveler, Sen has explored several countries and many of her works have evolved from her travels and experiences." (Nature Morte).
Works Cited:
Figure 1. Sen, Mithu, Banana Couple, 2006. Dental polymer, artificial teeth, glue, and thread, 10 x 3 x 6 in. https://www.sculpture.org/documents/scmag18/may_18/may18_features1.shtml.
"I Hate Pink 2003." Mithu, https://mithusen.com/projects/i-hate-pink-2003/.
Krane, Susan. "May 2018 Sculpture Magazine – Mithu Sen." International Sculpture Center, May 2018, https://www.sculpture.org/documents/scmag18/may_18/may18_features1.shtml.
"Nature Morte." Www.naturemorte.com, http://naturemorte.com/artists/mithusen/.
NewsX. "Art Talk – Mithu Sen (Artist)." YouTube, YouTube, 22 July 2015, https://www.youtube.com/watch?v=OcmZwUTuRz8.
Thomas, Skye Arundhati. "Mithu Sen: 'I Constantly Change My Mediums so the Market Will Not Be Able to Trap Me'." Studio International – Visual Arts, Design and Architecture, https://www.studiointernational.com/index.php/mithu-sen-interview-i-constantly-change-my-mediums-so-the-market-will-not-be-able-to-trap-me.
---
---