On the Heels of Hildegard of Bingen (Recipe)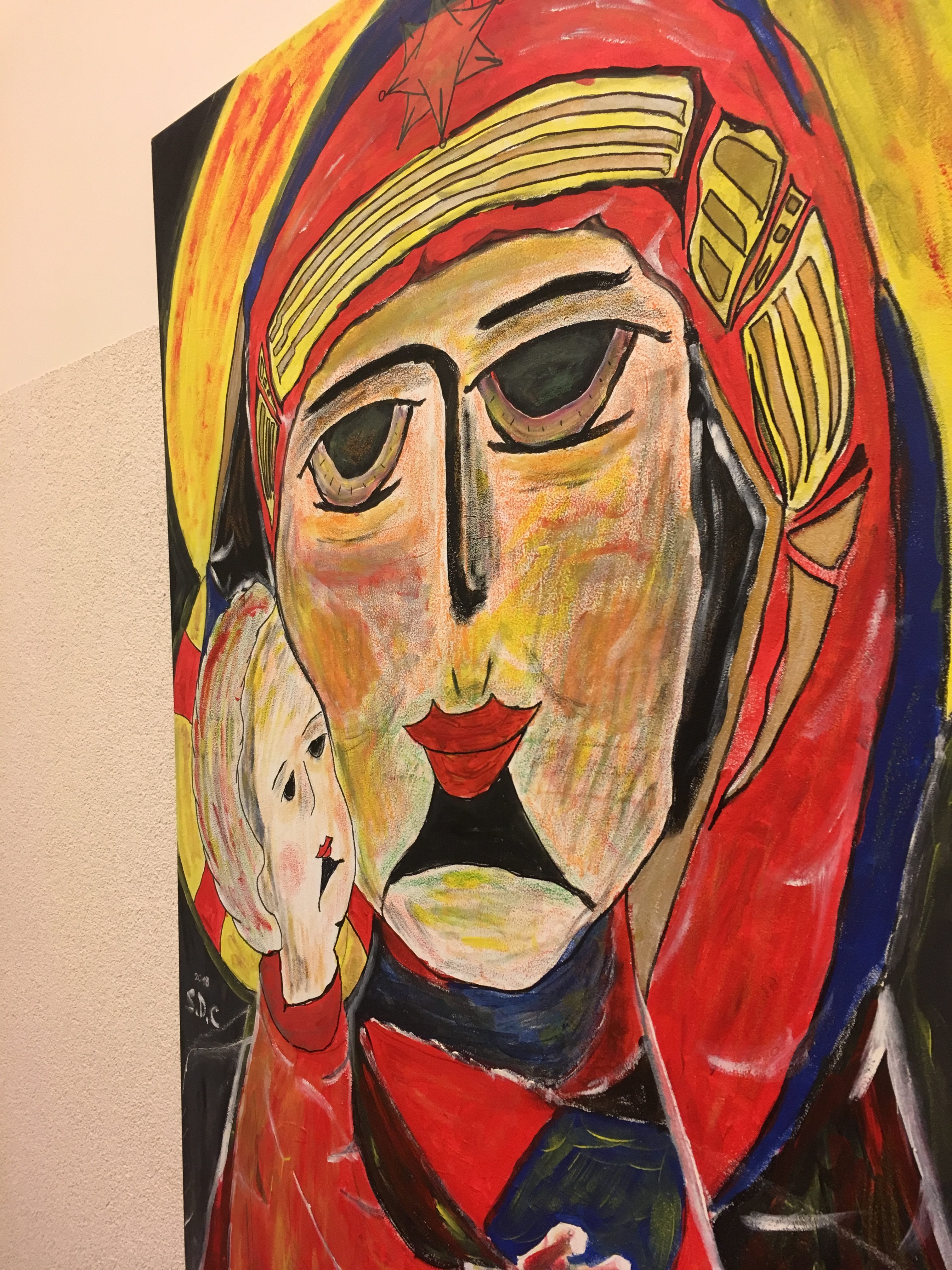 We cannot live in a world that is not our own, in a world that is interpreted for us by others. An interpreted world is not a home. Part of the terror is to take back our own listening, to use our own voice, to see our own light ~ Elaine Bellezza, on Hildegard

I don't attend church. I'm not religious. But here I am, chasing the 12th century nun Hildegard of Bingen around Germany.
I discovered Hildegard on a chilly October day while hiking last year, or at least an abbey and trail along the Rhine bearing her name. I wasn't particularly hungry, matter-of-fact I remember wishing I was.  Depression doesn't leave room for hunger. Entering the abbey's cafe, I was greeted by the scent of earth tinged with sweetness. Chestnut soup. A nun ladled the homemade "soup of the day" into a bowl and placed it gingerly on a tray in front of me. I plucked a small bottle of pinot noir produced by the abbey from a wicker basket, paid for my meal and shuffled on to a table under a painting depicting Mary and Jesus. I'm not one for the doom and darkness religious art often carries, but this was different. The painting's vibrant colorful strokes gave the artwork life, along with a sense of merriment.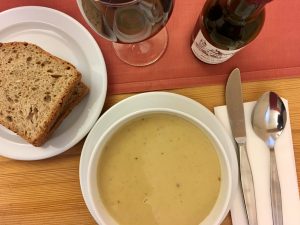 In contrast, the soup was muted gray and beige. It didn't look particularly appealing, but it was served by a nun, so I ate. And I ate. Until I had to mop up the puddles left with the slice of spelt bread that magically appeared at my table. In between bites, I drank the garnet hued wine. For the first time since moving to Germany, I felt nourished. By what I couldn't say? It didn't matter. I left the cafe with a sense of satisfaction and a lighter disposition. 
Before leaving the grounds I found myself in the abbey gift shop's large light infused space filled with beautiful works created by the sisters: statues, paintings, pottery, and jewelry culminating into an abundance of color.  As I made my way through the store I noticed packages of consumable Hildegard remedies including some pantry staples (and some not): lavender, fennel, hyssop, nettle, dinkel, galgant and dandelion.  Moving along, there were dozens of books on Hildegard, and as if saving the best for last, there was a wine shop tucked into the back corner of the store; where nuns poured tastings. All this made me more curious – who was Hildegard?  Their book selection was abundant, but only one was in English, it was a small children's picture book. 
I took home two bottles of red wine, some kid literature and hope. Since that cold fall day, I've returned to the abbey many times, read multiple books on Hildegard of Bingen, and spent time in a museum dedicated to Hildegard.  I continue to be inspired and mesmerized by a woman most have never heard of.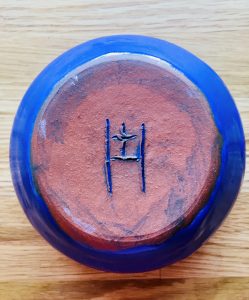 What makes her special? Depending on where you search, the answer changes. Hidegard was canonized by the Catholic church on May 10, 2012, but I don't believe the title "Saint" is her crown and glory.  Poet, philosopher, prophet, polymath, and physician – these are the words that drew me into her realm; add to her resume: composer, author, herbalist, healer, painter, and mystic and you've got the precursor to "Renaissance Man." Her varied interests, scholarly and artistic pursuits coupled with her depth of knowledge continues to inspire nine centuries later. She was the epic "Medieval Woman."
Geographically, I'm far removed from the aluminum trailer in Southwest Louisiana where I spent my youth frolicking the forest and wishing on dandelions. My current home is perched on a hill with a view of the Frankfurt skyline. I have four healthy daughters and my best friend is my husband. My basic essentials are cared for, it's the intangible needs I struggle to grasp: loneliness, happiness and a pressing need for purpose.  And although I wasn't raised Catholic, there is guilt.  
In pursuit of Hildegard of Bingen, I hope to find enlightenment while hiking in her footsteps along the 137 kilometer Pilgrim's Trail.  I've reached out to the nuns of Eibingen Abbey requesting to stay a few nights in one of their rooms, where I hope to witness a day-in-the-life of one of Hildegard's followers. Lastly, I'll unfurl my apron and put Hildegard's recipes to the test cooking with nature's bounty she suggests for various afflictions. Whatever your malady, Hildegard believed there was a medicinal plant, herb or natural stone suited to address your concerns: dull eyes, vision loss, fatigue, slow metabolism, skincare, hearing loss, cold, flu, memory loss, weak lungs, poor digestion, insect bites, heartaches, stress, rheumatism, insomnia, depression – Hildegard claims to have the recipe to heal what ails, naturally.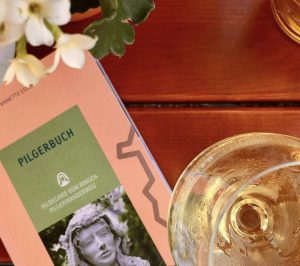 Like the darkness consuming medieval religious paintings, the pandemic handed society a sense of loneliness and doubt. Hildegard lived and thrived during these times, but she chose to harness and disperse light. She believed in Humanity. I want (need) to believe, too. Hopefully this 12th century mystic will guide me to clarity, or at least acceptance.
If you would like to add a spark of joy to your tastebuds, try making this adaptation of Hildegard's "Cookies of Joy." I stumbled upon it while researching ingredients Hildegard believed induced happiness.  She said these spice cookies would summon joy and positive thinking.  The only substitution I made was I used half spelt flour with normal. My day improved after the first bite.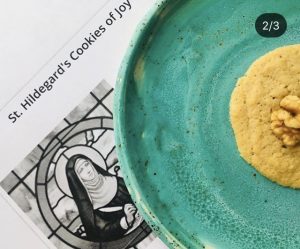 Tidbits:
Hildegard of Bingen was included in Judy Chicago's art installment, The Dinner Party. 
Hildegard's awakening happened when she turned 42. From then on she never held back or stood down, and because of –  she prospered. And she lived to see 81.
 Popes, emperors, and statesmen sought out Hildegard for advice and consultation because of her numerous prophesies and miracles.
---