A Postcard from Poznań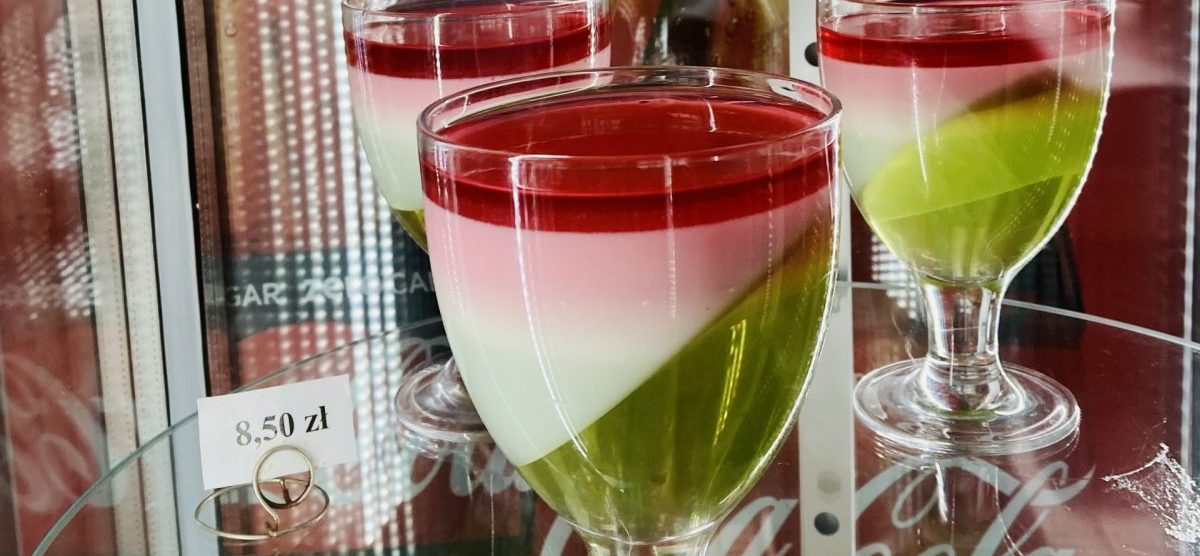 Only at a Polish truck stop could you find an edible carnival rotating inside a multi-layered turnstyle. This delicacy mimics a city I've come to love, Poznań. Like the twirling layers of jello, the nostalgia of this candy-colored town's past is entwined with a progressive present; it's vintage, eclectic, modern and a cornucopia for the senses.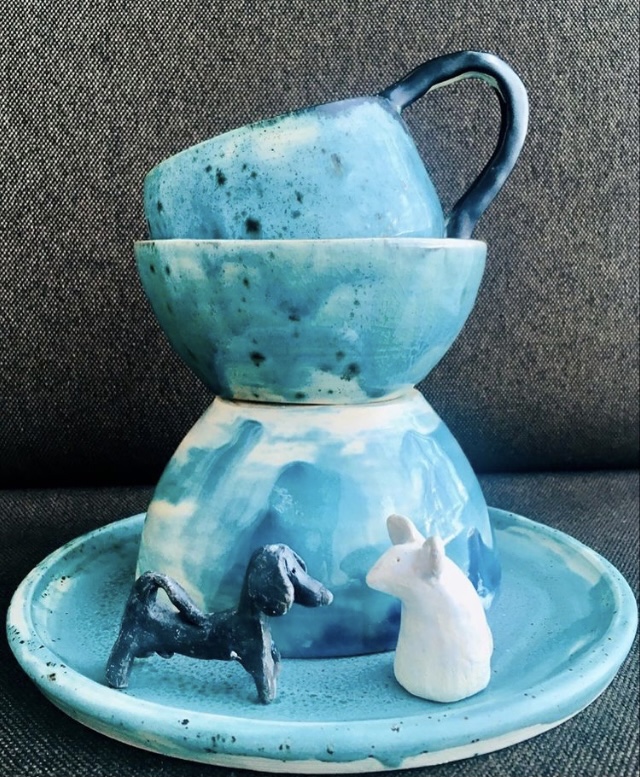 Pottery is synonymous with Poland. What isn't synonymous with Polish pottery is a lack of patterns and colors. For the easily bewildered, it's dizzying and overwhelming stepping inside a store where disorientation is more likely to lead to bumping and breaking rather than buying and bringing home. In a revolving evolving world, I'm attracted to simple, timeless, uncomplicated designs, which is how I found Zofia Kosiorek, owner of Pracownia Ceramiczna.
No cookie cutter clutter here, everything in her little shop is one-of-a-kind. And if you happen to be in town for more than a few days, you can attend one of her pottery classes. What you create is only as limited as your imagination: cake plates, coffee cups, mayonnaise bowls (yes, it's been done), candy dishes, spoon holders, salad bowls, pet figurines, mortar & pestles, etc…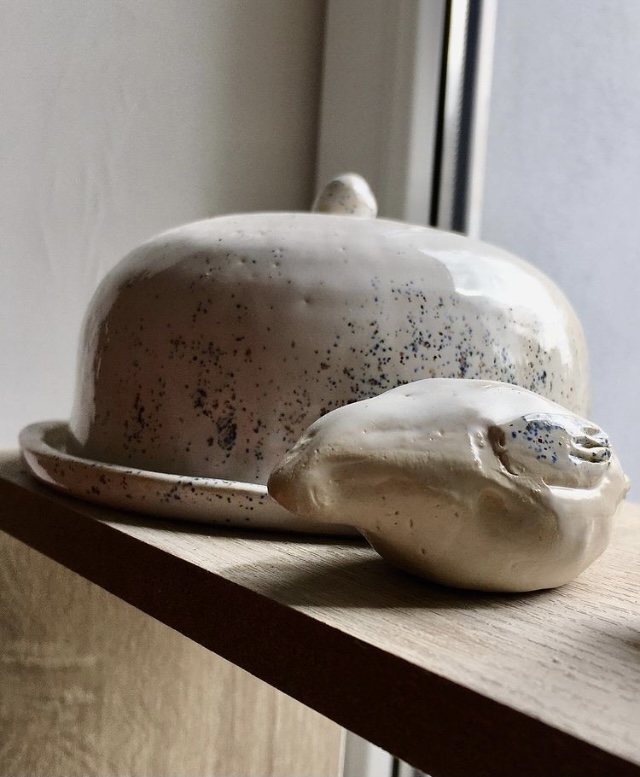 Zofia is an example of an artist reflecting their craft. Her presence feels like the ease usually brought forth after a glass of vino or the comfort following slipping into a favorite pair of jeans. Her smile is shy and genuine, as is her love of ceramics and customers. On a recent visit we perched ourselves on bar stools outside her periwinkle and white boutique's window and sipped black coffee from speckled Robin egg blue cups, like childhood friends we spoke effortlessly about love, loss, music, art, food and family. I left with a beet colored cookie jar, an assortment of cups and bowls and three Chicago Jazz CD's, the music that accompanies Zofia when she's in her zone at the potter's wheel. Go for the timeless functional designs, but you're likely to leave with something more valuable than one of Zofia's creations, a friend.
Palate Pleasing Poznań
If the pastel patina of Poznań doesn't seduce you, the delicious food and it's affordability will! I've been to this city many times and never leave wanting. There's so much more than pierogies in Poznań. Whatever your stomach rumbles desire, this city will magically unfurl.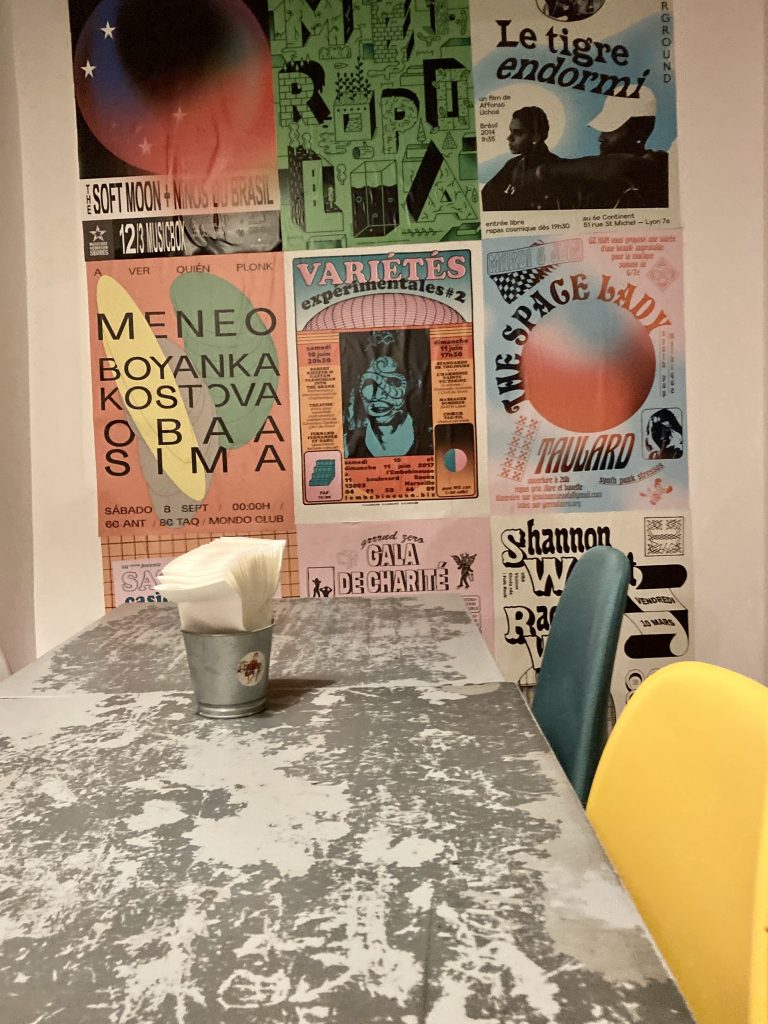 Since leaving Texas four years ago, I had given up on finding good Tex-Mex cuisine – and then I found Taco Jesus. While carnivores will delight in their meat filled burritos and quesadillas, vegetarians will sing praise over their abundance of veggie fillings! The kitschy colorful decor and vibrant atmosphere of the owner and his staff are fun and festive. If you go, don't miss the secret garden oasis in the back, complete with beautiful trees offering shade from the summer sun. In the evening lights twinkle through branches over picnic tables. Not sure if it's the food or the mystical atmosphere, but Nina Simone's lyrics sum up a trip to Taco Jesus. It's sure to "Put a Spell on You." No guilt or confessions required, just a hearty appetite!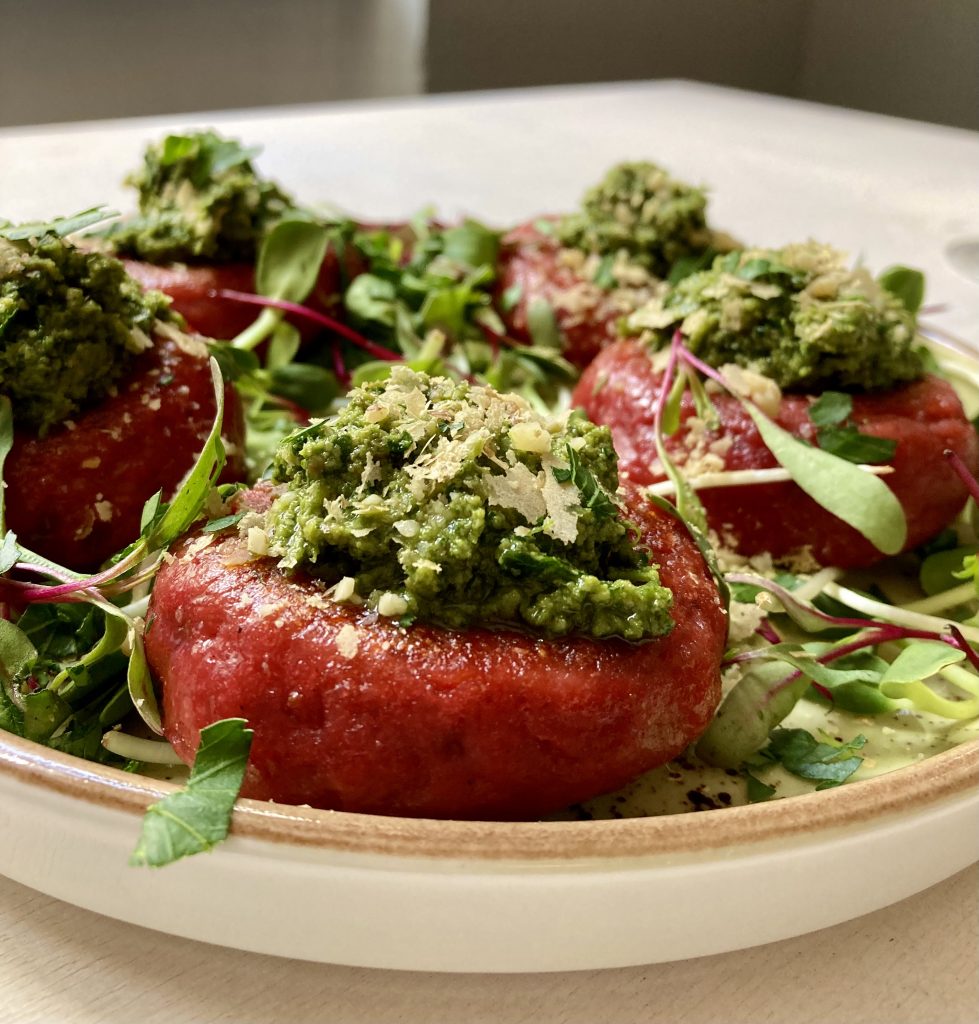 It's not unlikely your well-informed server is also the chef and owner, Sara Klarecka. If vampire slayer Kate Beckinsale had a Polish younger sister, it could be Sara! She may not be slaying vampires, but she is seriously slaying preconceived notions that vegan and gluten-free foods are dull, bland and dry. If you've ever wondered if your taste buds could be swayed, I challenge you to perch yourself at one of the lovely tables in this pretty little cafe and allow your senses to be the judge. On a recent visit, Sara suggested a dish where a main ingredient was beetroot. I'm not a hater of this purple veggie, but I'm certainly not a fan. Something about the way she described it reassured me it wouldn't have an overbearing earthy taste (or leave my teeth purple). It did neither, and turned out to be an awakening. Vegan or not, it was delicious! The beet's purple hue was front and center, but the taste wasn't overpowering. The dumplings were dense, moist and filling. The texture reminded me of gnocchi, each circular morsel was topped with a delicious parsley pesto and shavings of vegan Parmesan (aka, nuts). I'm thankful I went against my palate's outdated instinct and trusted Sara. I'm also thankful to the cafe owner around the corner who introduced me to this gem, Sara's Mom.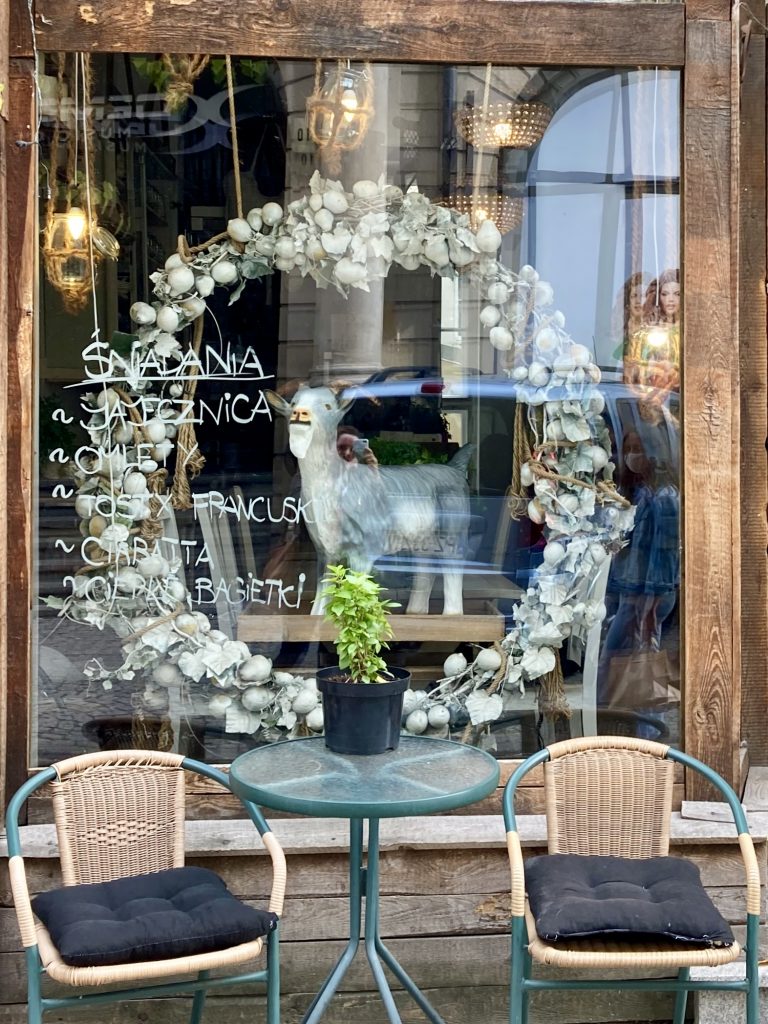 The rain introduced me to a hidden gem, Un Pot Cafe. It sits quietly, just a block off the main square. Caught in a spring downpour, I decided to take cover and warm up with a cup of coffee and lunch. Poznań's city mascot greets you upon entry, a friendly distinguished looking goat. There are a few tables on the ground level, but my visits always wind down the stone staircase to the basement. Fabric angel wings stream from the ceiling, along with tiny white lights casting a warm glow over the surroundings. It's private and cosy in the basement, and if you need fresh air there's even a small courtyard. Regardless of where you choose to sit, you'll likely hear Edith Piaf or French Jazz drifting overheard. And not unlike TEŻ MOŻNA, your server is likely the chef and owner, Teodozja Klarecka. This is home cooking at its best: tender pierogies, hot paninis, soups, egg sandwiches, fresh salads and homemade cakes. Everything I've ordered here is good, and tastes better because your order is delivered on a pretty tray, drinks arrive in jars and soups are poured into a glass container with a lid. It's all served with care, and attention to detail. The rain and the goat brought me in, but the nourishing food and genuine hospitality of Teodozja is why I've returned, every time.
**********************************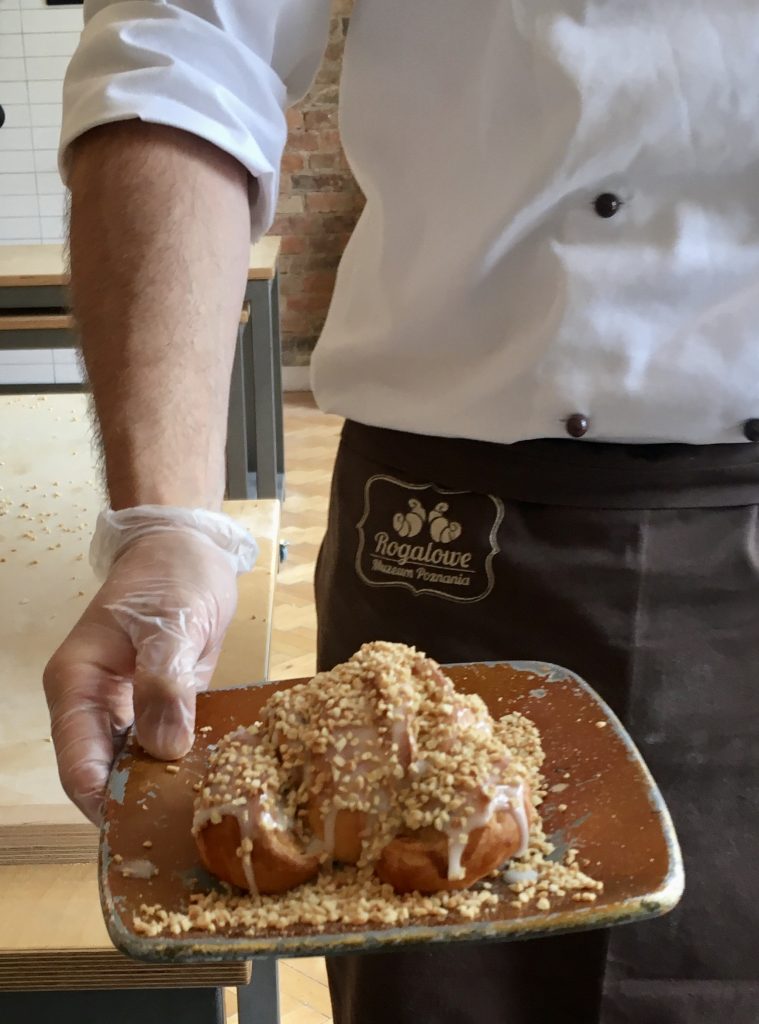 And for anyone interested in culinary history, you might enjoy attending a class on the history of chocolate inside the Muzeum Czekolady Poznań (you'll create your own candy bar) and/or sit in an entertaining one hour demonstration and lecture on the St. Martin Croissant offered by the Poznań Croissant Museum. Attendees of either classes leave with a certificate and their sweet tooth satiated. You won't leave Poznań hungry, except you may leave with a craving to return for whimsy, wonder and charm.
---