Maredret Monastery: Where Nuns Spin Gold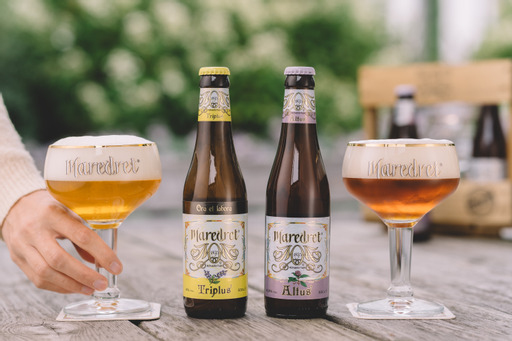 I'm not Catholic, but my love of Belgian beer often ushers my footsteps to monasteries and abbeys. As you likely know, many monks in Belgium make and peddle beer, but if you look in the shadows, you will discover the nuns at Maredret Monastery creating recipes inspired by Hildegard of Bingen, an 11th century Beneticine abbess who Pope Benedict XVI decreed a Saint in 2012. (You can read more about Hildegard HERE) A cardinal rule exists for Benedictine monks and nuns, it states they should "earn their own keep and donate to the poor by the work of their own hands."  What happens when the community you live in has fewer than two dozen inhabitants residing in a 19th century stone structure on 17 hectares of land who must make a living from "their own hands"? You become resourceful.  This small but mighty community of Benedictine sisters are planting the seeds for what they hope will sustain their humble way of life, and in doing so, aim to improve the health and well being of others too.These women have teamed up with a brewer to create a unique recipe for beer. Their beverage has a purpose extending beyond consumption; they envision their ingredients will aid in good health. How could this be? It starts with a beer garden, of course.
The beer garden is an actual garden, where the herbs infusing their libations are grown, nurtured and cultivated by hand. Like any good medieval garden, this one packs a medicinal punch with an abundance of nutritional botantials: cloves, juniper berries, cardamom, sage, galangal and laurel. In addition to using restorative herbs, you'll find another healthy ingredient not found in most beers. Spelt. This ancient grain, known for its good virtues was praised by their muse, Hildegard. Spelt is an excellent source of fiber and is lower in gluten than traditional wheat, which makes these ales kinder to the digestive system. Maredret has crafted two beers: Altus and Triplus. The combination of spelt and herbs from the garden infuses a taste that's refreshing and startling – as though an herbal garden is picnicking on your taste buds! I wonder, is it possible to drink an ale that cures ails? I'd like to think so, I did feel better after finishing my Altus!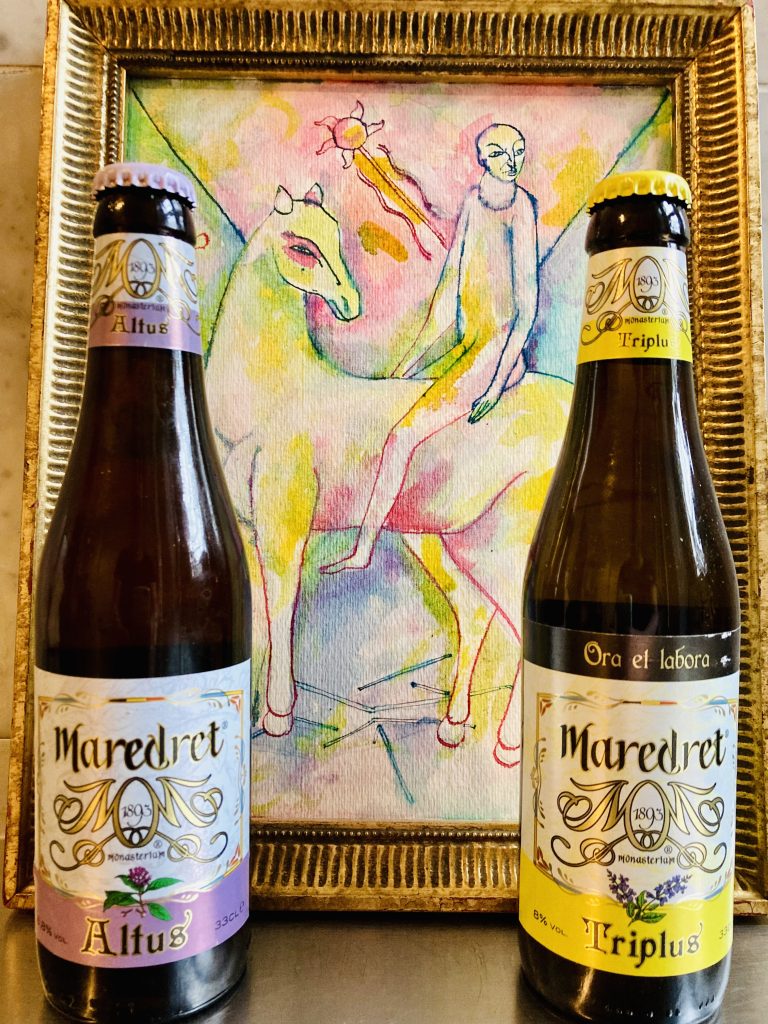 Before unveiling their beer to the public in the summer of 2021, this quiet monastic community garnered respect for enlightening others through education. If you've ever wanted to study (in French) calligraphy, gardening, floral design, natural cosmetics and essential oils – look no further. The scholarly sisters of Maredret even teach the medieval painting technique of illumination, which is used to enhance calligraphy and script while embellishing pages with elegant decorations in gold. To see an example of this technique, take note of the beer label design. The whimsical swirls of gold in their monogram is a fine example of the "illumination" craft being taught and poured at the monastery.
These 18 women appear to spin gold from fingertips, whether through harvesting, painting, or creating a natural bronzer for the skin. It's impossible this small pious community will remain in the shadows, when everything they grasp turns gold, including their Triplus beer.
If you're interested in buying Maredret Monastery beer, you can call ahead and arrange a visit. If you prefer to have it delivered to your home, go to their website and follow the links. It's quick and easy. My order arrived in Germany within days. Bonne santé!
*Header image compliments of Maredret Abbey
---