A Polished Life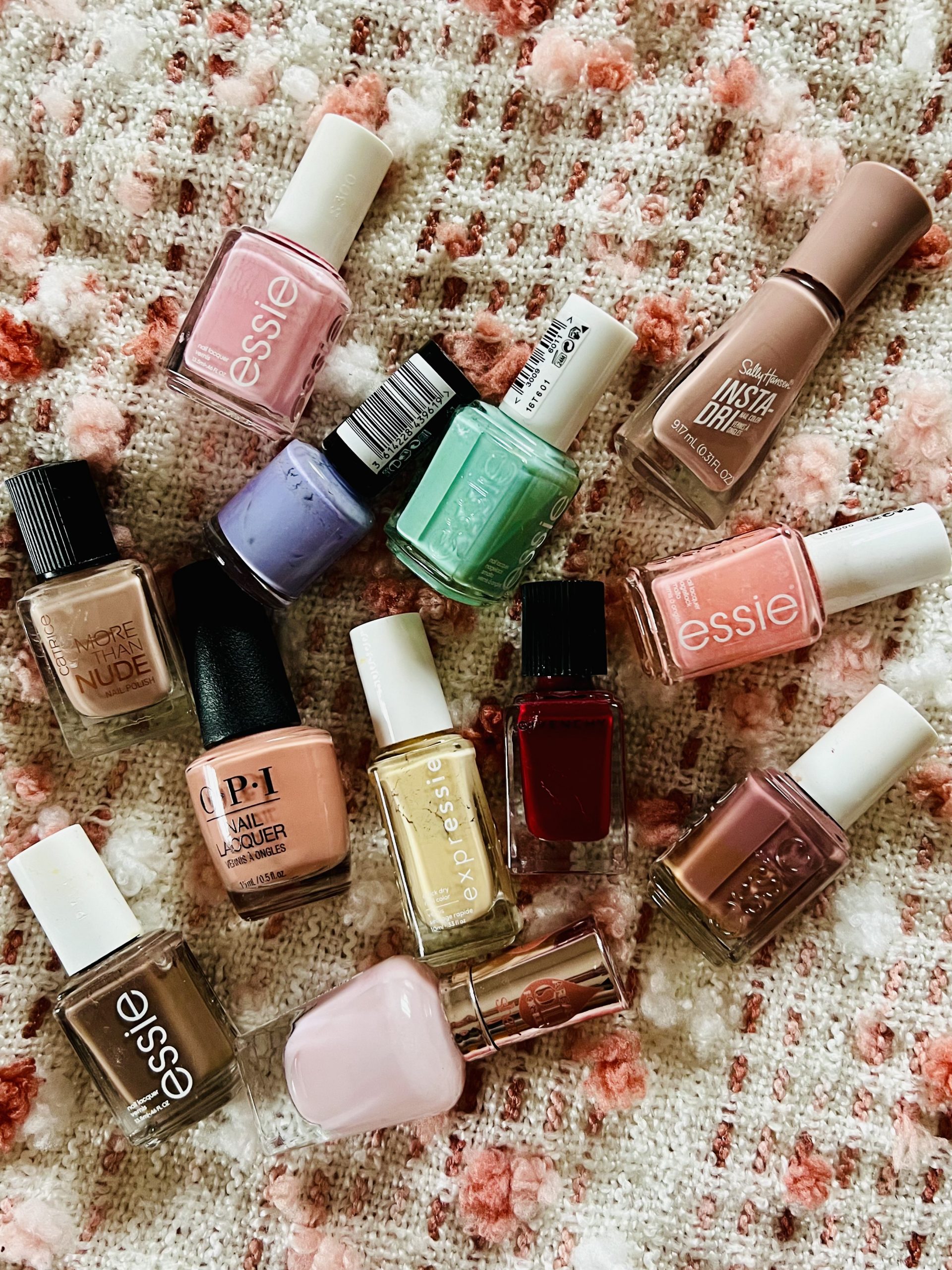 Our mother always liked to say, "Sarah and Maurine, only a true southern lady can wear red nail polish and not look like a tramp".  My sister Maurine and I longed for the day when we would turn 18, the designated age our mother applied to the maturity involved in appropriately handling the potential advances that can transpire through wearing such provocative nail enamel.  Mom would say, "Once a young girl waltzes into being a young woman, if raised properly, she would be equipped with an etiquette that would overshadow the notions that come with the color red."  There were many times in my life that nail enamel would bookmark relevant events.
In my disjointed youth, my sister and I used to roam the cosmetic aisle of our local drugstore. Murphy's was our shop of choice, most likely because it was the one within bike peddling reach of home. It was where the cashiers not only knew our names, but our parents too. After saving up allowances, Maurine and I would head down to Murphy's for two things…nail polish and candy. The names given to the nail polish were always whimsical and in my reality, just as important as the color within the glass bottle. It was always fun trying to imagine what the ladies looked like who would come up with such kitschy titles, names like: Lavender Moon, Whipped Pink, Mystic Mauve, and Senorita Rose-A-Lita. My preteen heart was entranced. The intoxication of trying to choose among so many fanciful colors often left my sister and me returning home later than expected. After leaving the store, we strung our Murphy's bag on our handlebars. The jars made a musical jingling sound, especially when riding over potholes. Mom wouldn't be too upset with our late arrival, as long as one of us would bring her back a Chocolate Moon Pie, which we always did.
I was 23 years old and eight months pregnant with my first baby, when a box arrived in the mail. The contents held within were small, but significant. As I read the card it simply said "I chose the color Cosmic Cotton Candy for your toes. Mothers should always welcome their newborns into the world with properly attired feet…since that's what the baby sees first. Love, Mom". The color was indeed beautiful. The shade wasn't obtrusive. It was pink happiness in a bottle. There was a slight shimmer in the swirling pink tones. When my daughter Grace arrived, she had ten happy, properly attired toes waiting to greet her.
Two years after Graces' birth I had a miscarriage. It was a surreal moment in time, one I have tried to forget, but one that always seems to remember me. In my despair, I remember my sister calling to tell me she was coming to see me. She said she would help around the house, watch Grace, and keep me company. I don't remember a lot from her visit. What I do remember is going into a grocery store with Maurine. When we passed the nail aisle, Maurine smiled and said, "Sarah, go ahead, you know you want to. Pick out a shade. It'll make you feel better." I smiled at my sister, remembering a moment in time that seemed so far away from the pain I was feeling that day. Maurine continued shopping while I stayed behind contemplating which bottle of polish was calling my name. When Maurine returned a few minutes later she looked so proud seeing I had in fact chosen a new shade to make me feel better. I didn't have the heart to tell her the name, Barley There, which was exactly how I felt.
As my daughter Grace walked down the aisle, my mind was overwhelmed with emotions. I had to remind myself. Breathe. When did my baby grow up? But there was no denying, being in love magnified her beauty. Porcelain skin radiated against her cream gown. The pale peach roses sewn into the neckline was a vision that would rival any John Singer Sargent portrait. I wasn't only looking at my daughter, I was inhaling a vision of an angel. Witnessing Grace's hand extend from her dad's to that of her soon-to-be husband's was breathtaking, and if I'm being honest, a tiny bit heartbreaking. It seemed appropriate the nail color she chose for her wedding day was called Peaches & Dreams. Those in attendance were floating off the residuals of Grace's happiness and dreams on her wedding day. Her dreams, hopes, fears and disappointments will always be mine. My nails were adorned for this special occasion in a transparent shade called, Babies Breathe.
It was a lovely spring day when I found myself sitting across from Maurine. She asked if I had found the right shade of polish for such a monumental event. I told her I've never been more confident in my selection. Curious, Maurine took the nail polish and looked at the bottom to find the name written in the tiniest of letters, Cosmic Cotton Candy. "Interesting choice, Sarah." I explain, "It was the color Mom sent me when Grace was born. Mom said something at the time about it not being appropriate for a baby to come into the world seeing ugly toes first." Maurine nodded her head and understood. In silence we each reached for one of mom's hands and began to paint. Mom was a religious soul. It felt like a full-circle moment. Maurine and I both knew mom's hands would be extended upward, toward the heavens. God shouldn't have to see ugly hands first. Placing roses on mom's casket, Maurine and I, well beyond our youth, smiled. Our nails mirrored one another, Fire Engine Red.
---