Morsels of Truth Found in a Cookie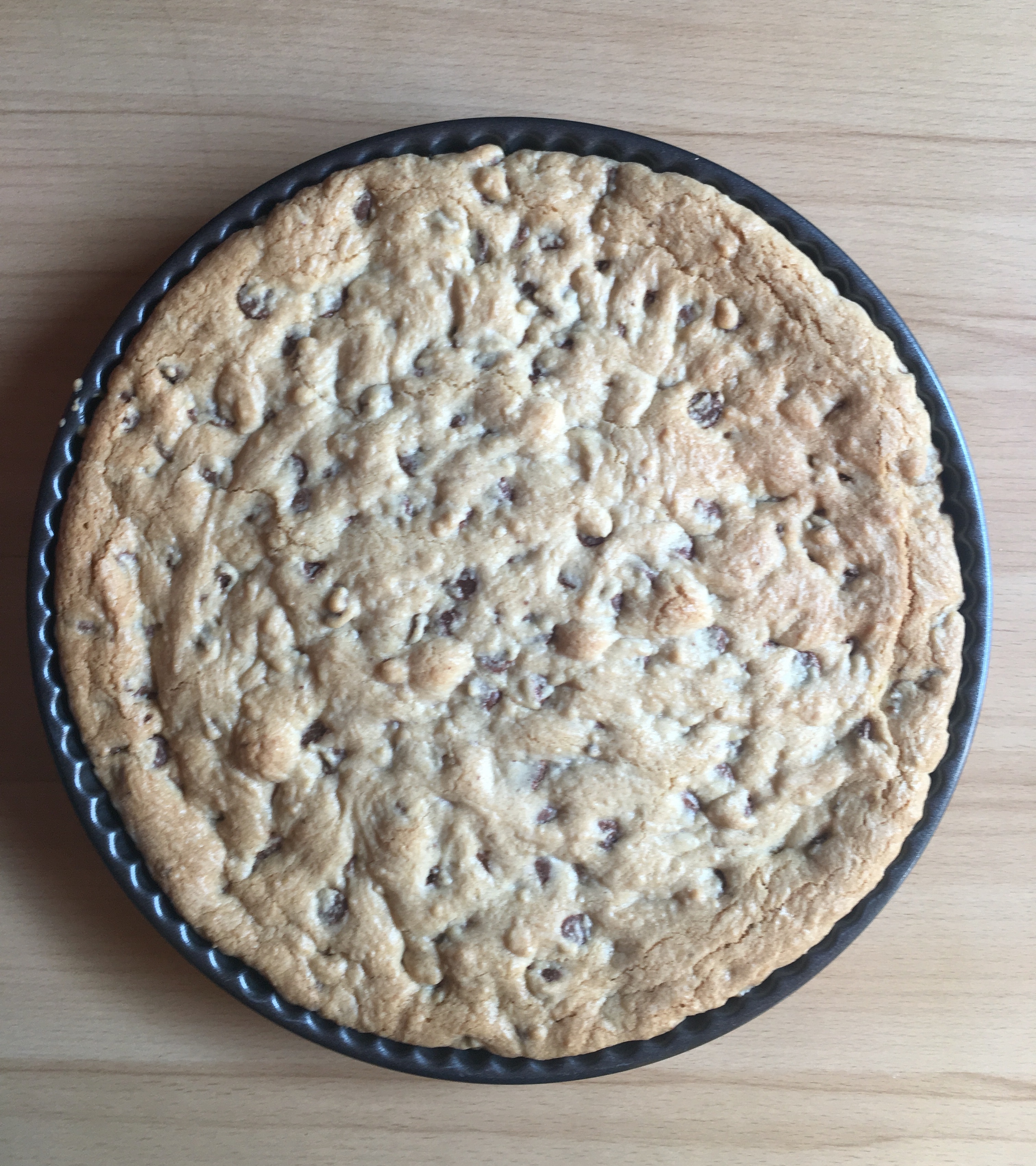 When I announced to Mom I was moving to Germany her response was immediate, precise and sincere, "I'll store your KitchenAid in the attic till you get back." 
Heart be still.  I love being part of a family who bakes!
Since arriving, I haven't been able to splurge on a 220v stand mixer, so I've been sticking to recipes that require less manual labor – like chocolate chip cookies.
Not sure Mom knows this, but my first memory witnessing a batch of chocolate chip cookie dough being made was in her sister's kitchen.  I remember eagerly peering into a ceramic moss green bowl as my Aunt Darlene poured ingredients and explained their purpose. She'd occasionally pause stirring to adjust her black rimmed glasses from slipping down her nose. She spoke to me as though I was an adult, even though I was barely double digits. Her intelligence usually intimidated me, but in the kitchen something magical happened.  My insecurities were replaced with a much healthier ingredient, curiosity.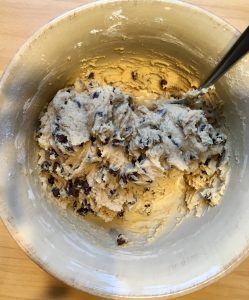 My gratitude for Aunt Darlene is immeasurable and extends beyond the kitchen; she introduced me to the snaggle-toothed art historian nun, Sister Wendy.  She broadened my world of music by loaning me Suzanne Vega and Tori Amos cassettes.  And she insisted on a daily basis my fumbling reluctant fingers learn
The Candy Man
and
Yesterday
on her piano.
It still humbles me she let an unappreciative kid hang out after school for countless hours so my mom could work nights while putting herself through nursing school after dad left.  Mom had two kids to feed (and no child support payments).  My aunt understood all too well.  She was a single working mother of three. I didn't understand it then, but Aunt Darlene wanted more, for all of us.
Our relationship wasn't always sugar coated.  I hated her, only the way a teenager can, the day she came to our house and sat me down for a "talk." I was 16 with an ego to match my sprayed hair, it was the 80's.  I can still feel the discomfort of my thong body suit and tight ripped jeans as I sat across from her at our dining room table. She looked through my charcoal rimmed eyes and said matter-of-fact, "You've got to stop dressing and acting like this or you'll wind up pregnant and married before you're 18!"  I was furious.
When my boyfriend asked me to marry him, I was 18.  I was sure to wait until I was 19 to make it official.  Aunt Darlene was at the wedding, pretty sure she baked ginger cookies. The marriage was short lived, and fortunately didn't produce off-spring (ha ha, she didn't get that right!).  Aunt Darlene never said, "I told you so"…although we both knew she didn't have to.
Decades later we were all surprised when my aunt was robbed?  This was the worst kind of bandit, it came without warning and stole everything she had. ALS, also known as Lou Gehrig's Disease was the guilty culprit who slowly snatched away her ability (and pleasure) to bake, speak and hold a coffee cup. Before moving from Louisiana to Florida to live out her remaining years with her daughter, she gifted me her collection of tiny tin chocolate molds: a lamb, a pelican and a dozen round, square and oval designs.  Before getting in the car to drive back home to Austin, I remember trying to explain why it had been so long since I'd visited.  Struggling to find the words, to my surprise she clasped my hands and with pure compassion and a crooked smile she said, "I know, I know." And she did.
For me, the result of baking chocolate chip cookies is always consumption. I'm hungry, not for filling my stomach, but for feeding my memory. I'm hungry for my aunt's wisdom.  I'm hungry for her patience. I'm hungry for her honesty. I'm hungry for her love. Most of all, I'm hungry to be closer to the memory of a woman who had faith in me.  Any time I bake I'm reminded of something my aunt knew existed, but I struggle to accept – my potential; a sensation more intoxicating than the combined scent of vanilla, butter and sugar, something I didn't know existed until I peered over Aunt Darlene's kitchen counter.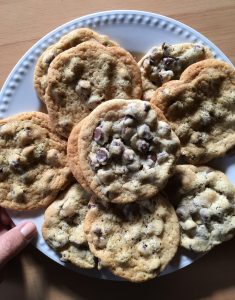 "It seems to me that our three basic needs, for food and security and love, are so mixed and mingled and entwined that we cannot straightly think of one without the others. So it happens that when I write of hunger, I am really writing about love and the hunger for it, and warmth and the love of it and the hunger for it… and then the warmth and richness and fine reality of hunger satisfied… and it is all one."
― M.F.K. Fisher, The Art of Eating
(The "secret" recipe used was Nestle Toll House, printed on the back of every bag.)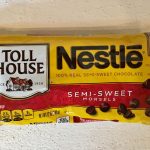 ---
---