Dans le Bleu: Candor in Cigarettes & Crimson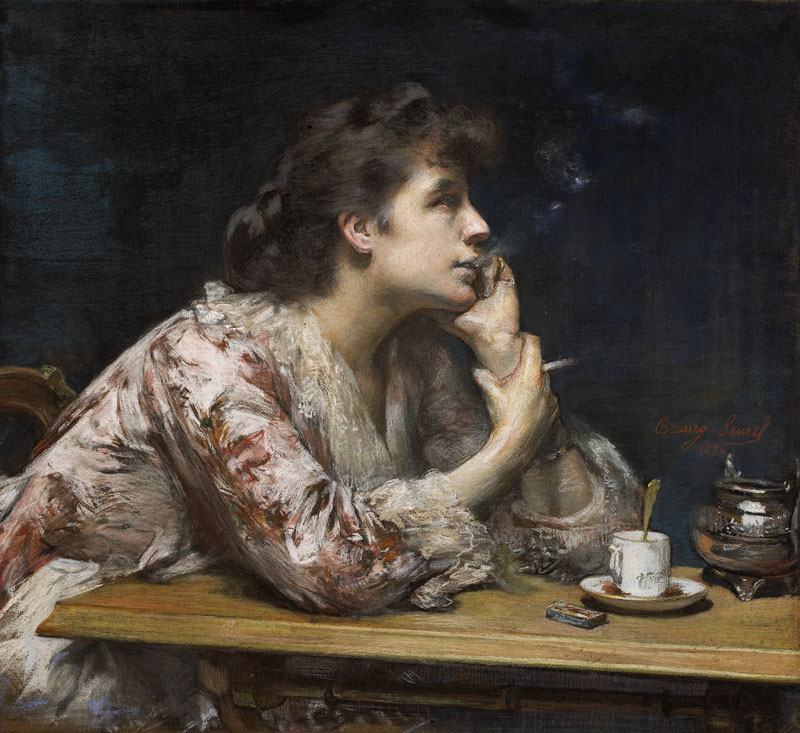 Nineteenth century French painter, Amélie Beaury-Saurel was a trailblazer. You'd be mistaken to give Dans le Bleu the once over.  This painting is more than a pretty face. On first glance, Beaury-Saurel appears to have painted an idle lady of leisure, but in fact, the woman is anything but idle. Elbows rest on a worn wooden table, chin supported by a partially closed fist. Her other hand clasps around the opposite wrist while holding a lit cigarette. Looking into the distance she appears longing as she watches the exhale of smoke leave her lips.  The ash dangling from the cigarette is nearing her flesh, but she's too deep in thought to notice. Next to her: a box of matches, a dainty tea cup and an open liquor decanter. The black background gives the space a sense of solitude, but also allows the artist to cast an angelic glow over her focal point, the woman. Dans le Bleu was painted in 1894, a time when women were repressed from appearing in public places – much less smoking and partaking in libations.  The artist's signature in crimson makes a powerful statement, too. It doesn't appear in an obscure lower corner, it hovers above the open liquor decanter. This painting by Amélie Beaury-Saurel was a silent, but profound message regarding her thoughts on 19th century oppression of women's rights; she disapproved. 
Between 1838-1907 Beaury-Saurel was affiliated with the Académie Julian in Paris, first as an employee, then student of drawing and nudes. In 1839 she marries the schools founder, Rodolphe Julian.  (Beaury-Saurel Amélie).  In 1873, when the school began offering workshops for women, they were led by Beaury-Saurel.  The following year she would go on to win a medal at the World's Fair for her artwork, and again in 1889. In 1907 after her husband's death she, along with her two nephews continued to manage Académie Julian. (9 Trailblazing Female…, 2018). She died in Paris in 1924. Her remains are buried in Père Lachaise, but her work lives on.
Works Cited:
"Beaury-Saurel Amélie – Ministère De La Culture." Beaury-Saurel Amélie – Ministère De La Culture,http://www.culture.gouv.fr/Thematiques/Musees/Nos-musees/Valorisation-des-collections/Les-femmes-artistes-sortent-de-leur-reserve/Icones/Beaury-Saurel-Amelie.
Figure 1. https://commons.wikimedia.org/wiki/File:Beaury-Saurel_Dans_le_bleu_(RO_494).jpg
---
---